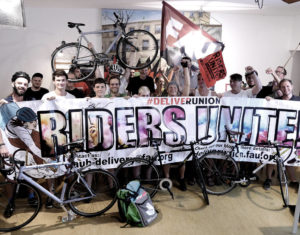 Scroll down for the English version.
[Pressemitteilung] Am kommenden Montag findet eine der ersten Güteverhandlungen zwischen gewerkschaftlich organisierten Fahrern und Deliveroo statt. Das Ergebnis könnte richtungweisend sein.
Über Nacht standen die Fahrer*innen von Deliveroo ohne ihren Job da, als Mitte August publik wurde, dass der app-basierte Auslieferdienst in Berlin den Betrieb einstellen wird. Das Unternehmen beendete die Selbstständigen-Verträge mit den Fahrer*innen zum 28. August. Vier Rider, die in der Basisgewerkschaft Freie Arbeiter*innen Union Berlin (FAU) organisiert sind, wehren sich nun dagegen. Für sie ist klar: Mit selbstständiger Arbeit hatte der Job nichts zu tun. Daher klagen sie nun auf Feststellung, dass ein reguläres Arbeitsverhältnis bei Deliveroo bestand – und somit ihre Kündigung unwirksam ist und noch Ansprüche gegen das Unternehmen ausstehen.
Rechtsanwalt Klaus Stähle, der die vier Fahrer vertritt: "Wir sind davon überzeugt, dass die Essensauslieferung, internetbasiert und gesteuert von Apps und Algorithmen, elektronischen Schichtplänen und automatisierter Auftragszuteilung bei standardisierten Preisen, die Fahrer soweit in die Organisation von Deliveroo eingliedert, dass für eine Selbstständigkeit kein Raum bleibt. Das sind ganz klar abhängig beschäftigte Arbeitnehmer. Die 'Freiheit' des Selbstständigen, einzelne Aufträge ablehnen zu können, wird umgehend vom Algorithmus bei neuen Schichtzuteilungen bestraft."
In abhängigen Arbeitsverhältnissen gelten im Unterschied zu einem Vertragsverhältnis mit Selbstständigen gesetzlich geregelte, einst gewerkschaftlich erkämpfte Schutzbestimmungen – etwa Verletztengeld nach Unfällen oder Lohnfortzahlung im Krankheitsfall. Auch sind Abfindungszahlungen nach Massenentlassungen üblich. Deliveroo bot den Rider*innen aber lediglich eine willkürlich berechnete Entschädigungszahlung an. Dazu Fahrer Lukas Malik: "Die größere Hälfte dieses 'good will payments' war an die Bedingung geknüpft, mit einer Unterschrift auf alle weiteren Ansprüche zu verzichten. Ich betrachte es als einen Versuch der Befriedung enttäuschter Kolleg*innen. Viele haben unterschrieben. Aber ich kann und will Deliveroo nicht so einfach davonkommen lassen. Ein derart abruptes Ende ist existenzbedrohend und verlangt danach, sich zu wehren".
Mit dieser Entscheidung geht auch die FAU-Kampagne "Deliverunion" in eine nächste Runde. Jahrelang hatte das Unternehmen die hier vorgebrachten legitimen gewerkschaftlichen Forderungen ignoriert. Nun sieht man sich vor Gericht – mit Aussicht auf eine Signalwirkung für die sogenannte "Gig-Economy": "Dieses Geschäftsmodell fördert Scheinselbstständigkeit, schafft rechtsfreie Räume und damit hohe Risiken für Arbeiter*innen. Ein Urteil gegen Deliveroo kann ähnlichen agierenden Unternehmen eine Warnung sein. Die oftmals marginalisierten Beschäftigten wird es dazu ermutigen, sich gegen prekäre Arbeitsbedingungen zu organisieren", so Gewerkschaftssekretär Johnny Hellqvist von der FAU Berlin.
Die Verhandlungen vor dem Arbeitsgericht sind öffentlich.
Wo? Magdeburger Platz 1, 10785 Berlin, Saal 206.
Wann? 07.10.2019 11:30 Uhr.
Für weitere Fragen stehen die Beteiligten vor Ort zur Verfügung.
i.A. Erik Hermann, Sekretär
*
Sudden Closure of Deliveroo: Riders go to court

[Press Release] The first negotiations between unionised drivers and Deliveroo will take place on Monday. The result could set a precedent.
Overnight, Deliveroo riders were left jobless when it was made public in mid-August that the app-based delivery service would cease its operations in Berlin. The company terminated the self-employed riders' contracts on the 28th August. Four riders, organised in the base trade union Freie Arbeiter*innen Union Berlin (FAU), are now fighting this. For them it is clear that the job had nothing to do with self-employment. Therefore, they are going to court to have it declared that a regular employment relationship existed between them and Deliveroo – which means that their dismissal is invalid and outstanding payments are due from the company.
According to lawyer Klaus Stähle, who represents the four drivers: "We are convinced that internet-based food delivery controlled by apps and algorithms, electronic shift plans and automated order assignment at standardized prices integrates the drivers into Deliveroo's organization to such an extent that there is no room for self-employment. These are clearly dependent employees. The 'freedom' of the self-employed to reject individual orders is immediately punished by the algorithm when it comes to new shift allocations."
In a dependent employment relationship, in contrast to one with self-employed workers, legally-regulated protections won through prior trade union struggles apply – such as compensation for injury resulting from accidents or continued payment of wages in the event of illness. Severance payments after collective redundancies are also common. Deliveroo, however, only offered the riders an arbitrarily-calculated compensation payment. For rider Lukas Malik: "The majority of these 'good will payments' were tied to the condition that by signing, riders waive their right to all further claims. I see it as an attempt to pacify disgruntled colleagues. Many have signed. But I cannot and will not let Deliveroo get away with it so easily. Such a sudden termination puts riders in a very precarious situation, and must be challenged".
This decision takes the FAU "Deliverunion" campaign into a new phase. For years, the company has ignored these legitimate trade union demands. Now it sees itself in court – with the prospect of sending a signal to the so-called "gig economy". "This business model promotes bogus self-employment, creates space for the denial of rights, and thus poses a serious risk for workers. A verdict against Deliveroo could constitute a warning to similar companies. Marginalised employees will be emboldened to organise against precarious working conditions," says trade union secretary Johnny Hellqvist of the FAU Berlin.
The labour court hearings are open to the public.
Where? Magdeburger Platz 1, 10785 Berlin, Room 206.
When? 07.10.2019 11:30 am.
The participants will available on site to answer questions.