We platform workers give away our basic rights, our privacy and our private belongings for companies that exploit our services, our bodies, our emotions and our identities.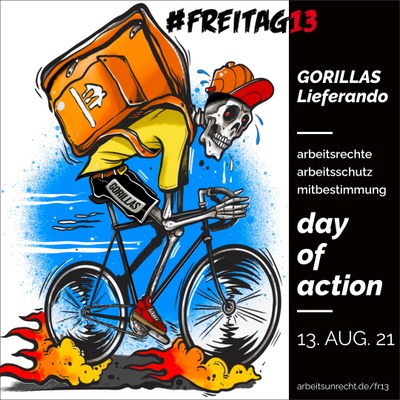 These companies call our exploitation: "Startup", "Tech platform" or "Unicorn".
Managers call our exploitation: "Family", "Flexibility", "Growth", "Competition" or "Flat hierarchy".
Politicians call our exploitation: "Gig economy", "Platform work" or "Digital work".
Scientists call us exploited: "Clickworkers", "Gigworkers" or "Platform workers".
They all call us exploited: "pickers", "riders", "drivers", "callers" or "cleaners".
We – the Lieferando riders of the Free Workers Union (FAU) Berlin – call all delivery workers to take actions against our exploiters on Friday 13th.
We are not getting paid for
being living advertisements.
collecting data with our own devices and giving it to other companies.
recovering physically and mentally from our work.
subsidizing our companies lack of responsibility.
putting our support, emotions and care into our daily work, our workplace and our fellow workers.
You do deliveries for restaurants or supermarkets?
You work for restaurants, supermarkets or companies like Dominos Pizza, Getir, Gorillas, Flink, Bringoo, Brings, Wolt, Bolt, Uber Eats, Foodpanda, Flaschenpost, Durstexpress, VeloCarrier, VeloGista or CycleLogistics?
Come join the Friday13th day of action on 13.08.2021!
This friday delivery workers and supporting restaurant and supermarket workers will be protesting the horrible working conditions at delivery companies in Berlin, Germany and Europe.
Friday13th action route:
15:30 @ Gorillas XBERG: Muskauer Straße 48 (Kreuzberg)
16:30 @ Lieferando Office: Cuvrystraße 50-54 (Kreuzberg)
17:00 @ Wolt: Am Postbahnhof 17 (Friedrichshain)
18:00 @ Gorillas FHAIN: Gürtelstraße 25 (Friedrichshain)
Come angry and loud in your company gear (jacket, helmet, backpack). Bring banners, posters and signs or make them with us on the spot. Bring your friends and all your problems to the streets!
We demand from the "platforms" we work for:
Pay for all our equipment (bikes, locks, clothes, phones, power and data)!
Pay us wages we can live off without depending on bonuses or tips!
Pay us our wages on time and correct (no more "technical problems")!
Pay sick leave and holiday leave according to the law (not luck!)
Pay our full social, pension and health insurance!
Stop collecting and selling our data!
Stop union busting!
No more probation periods!
No more contract limitations!
No more arbitrary terminations!
No more repression against unionizing!
More infos
More Infos about Friday13th:
More Infos about us: