(deutsche version unten)
Deliveroo has found a way to maximise their profits with barely any economic risk. They managed to do so by shifting all the risk onto us, the riders.
Working for Deliveroo means no sick pay, no guaranteed income, no compensation for the necessary work materials and no job security!
This exploitation needs to stop!
We demand that Deliveroo:
pays us for the waiting time (4€ for every half an hour without an order);

covers our compulsory statutory accident insurance (BG Verkehr);

reimburses bike part expenses (0,35€/km);

progressively raises the pay (an additional 0,50€ after 3, 6 and 12 months of working for Deliveroo)
Only if we act together can we force them to listen to our call!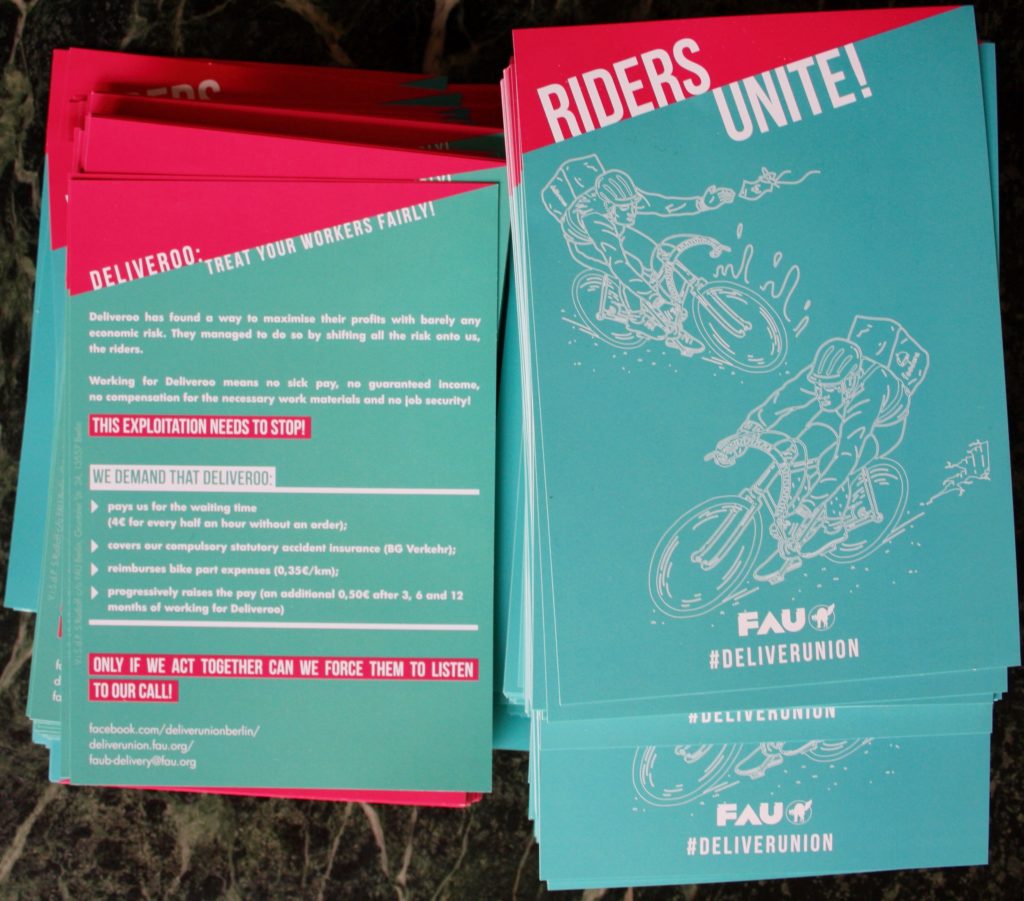 Deliveroo: Seid fair zu den Fahrern!
Deliveroo maximiert seine Gewinne ohne eigenes wirtschaftliches Risiko, indem die gesamte Last auf uns, die Fahrer*innen, geladen wird.
Für Deliveroo zu arbeiten bedeutet, kein garantiertes Einkommen, kein Krankengeld, keine Unterstützung bei der Instandhaltung unseres Equipments und keine Sicherheit auf Beschäftigung zu haben.
Diese Ausbeutung muss aufhören!
Wir verlangen, dass Deliveroo:
uns für Wartezeit bezahlt (4 € / gebuchte 30 Minuten ohne Bestellung)

unsere Beiträge für die BG-Verkehr bezahlt

uns bei Kosten für Fahrradreparaturen untestützt (0,35 €/km)

stufenweise die Bezahlung erhöht (0,50 € zusätzlich nach jeweils 3, 6 und 12 Monaten als Deliveroo-Fahrer)
Wenn wir als Team agieren, können wir Deliveroo zwingen, unsere Forderungen anzuhören!