A delegation from FAU's Leipzig Deliverunion campaign visited Foodoras HQ in Berlin last Thursday to hand over a petition with demands. The petition was signed from 60% of the Foodora workforce in Leipzig, among them all four rider captains.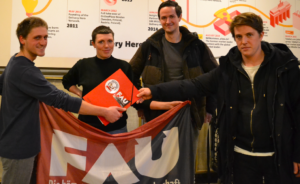 They met management for a discussion and will evaluate further steps in January.
The demands are:
Higher hourly wage: +1€/h
A meaningful compensation for wear and tear of 39ct/km
fairer and more transparent shift system
stopping the use of the time-limited contracts
Read more on their webpage.