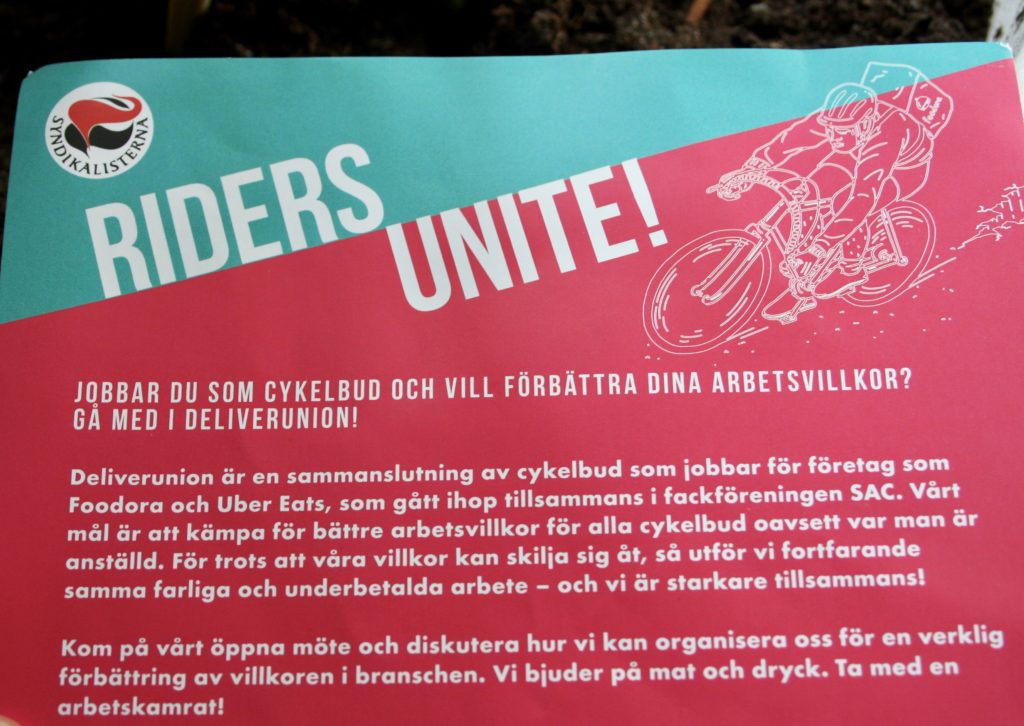 September 14-16, FAU Berlin visited three Swedish cities and talked about the Deliverunion campaign. Despair and frustration changed into hope of change.
In the spring of 2018 SAC invited us to talk about the #Deliverunion campaign. Between 14-16 September, we visited Stockholm, Gothenburg and Malmö, where the local unions organized information meetings open to all but especially for riders. Union working groups had produced local info-material and distributed them to the riders on the street, with one leaflet inviting them to the meeting and the other, describing how SAC had now taken on the delivery companies and urging all riders to join their local unions.
A handful of riders attended each of the three meetings. The conversation revolved around their work environment, the (self-)organising they had already done and the difficulties and opportunities in reaching out to their colleagues. We from Berlin talked about how we started organizing ourselves, about the experiences we made, and about successes and hardships in our campaign of over 2 years. The similarity of our situations and the common frustration with our working conditions were striking.
The fact that we did something about this frustration in Berlin gave a lot of energy both to the riders in Sweden to start their own campaign, but also to us, to continue what we started. When we showed images from actions we did, the enthusiasm was great: "Wow, you can do that?". The meetings also encouraged the local union organizers who showed a lot of interest in supporting the riders in their fight for better conditions at Uber eats, Foodora and Hungrig. They immediately took the first steps: contact information was exchanged, follow-up meetings were set up and hopefully, within the next few months, we will see articles and stories about riders getting together and struggling for change. As in Berlin, these struggles start locally, but live from connections with other struggles – in different workplaces, different cities and different countries. In Sweden, we specifically talked about connecting the organized riders in Stockholm, Göteborg, Malmö, Uppsala and Lund. Of course, we also mentioned the international riders conference in Brussels which we will visit in late October and encouraged representatives from Sweden to attend it.
In many ways we live in dark times. However, that pep we met when we talked about how we organized in Berlin, is one of the things that gives us hope. The same energy we received from IWW and IWGB when we started our campaign – hopefully, we now have passed it on to our comrades in Sweden. Because when we cross borders and join fighting unions we have an enormous potential to change our lives: in the city where we live, but also nationally and internationally. We are the resistance. Join us.
"Wow, sowas kann man machen?"
Vom 14.-16. September besuchte die FAU Berlin drei schwedische Städte und sprach über die Deliverunion-Kampagne. Verzweiflung und Frustration verwandelten sich in Hoffnung auf Veränderung.
Im Frühjahr 2018 lud uns die SAC ein, über die Kampagne #Deliverunion zu sprechen. Vom 14. bis 16. September besuchten wir Stockholm, Göteborg und Malmö, wo die lokalen Gewerkschaften Informationstreffen organisierten, die für alle offen waren, sich aber in erster Linie an Fahrer*innen richteten. Die Arbeitsgruppen der Gewerkschaften hatten lokales Informationsmaterial erstellt und an die Fahrer auf der Straße verteilt, wobei ein Flyer sie zum Treffen einlud und der andere ankündigte, dass die SAC den Lieferfirmen den Kampf ansagte und alle Fahrer*innen aufforderte, sich ihren lokalen Gewerkschaften anzuschließen.
An jedem der drei Treffen nahmen eine Handvoll Fahrer*innen teil. Im Mittelpunkt des Gesprächs standen ihr Arbeitsalltag, ihre bereits begonnene (Selbst‑)Organisation sowie die Schwierigkeiten und Möglichkeiten, ihre Kolleg*innen zu erreichen. Wir aus Berlin sprachen darüber, wie wir uns organisiert haben, über die Erfahrungen, die wir gemacht haben, und über Erfolge und Schwierigkeiten in unserer inzwischen schon mehr als zwei Jahre andauernden Kampagne. Die Ähnlichkeit unserer Situationen und die gemeinsame Frustration mit unseren Arbeitsbedingungen waren enorm.
Die Tatsache, dass wir in Berlin etwas gegen diese Frustration unternommen haben, gab den Fahrern in Schweden viel Energie, ihre eigene Kampagne zu starten, und gab uns neue Energie, das fortzusetzen, was wir begonnen haben. Als wir Bilder von Aktionen zeigten, die wir auf die Beine gestellt haben, war die Begeisterung groß: "Wow, sowas kann man machen?". Die Treffen ermutigten auch die lokalen Gewerkschaftsorganisatoren, die großes Interesse zeigten, die Fahrer in ihrem Kampf für bessere Bedingungen bei Uber Eats, Foodora und Hungrig zu unterstützen. Sie unternahmen sofort die ersten Schritte: Kontaktinformationen wurden ausgetauscht, Folgetreffen wurden vereinbart und hoffentlich werden wir in den nächsten Monaten Artikel und Geschichten über die Organisation von Fahrer*innen und ihren Kampf für Veränderungen lesen. Wie in Berlin beginnen diese Kämpfe vor Ort, leben aber von Verbindungen zu anderen Kämpfen – an verschiedenen Arbeitsplätzen, in verschiedenen Städten und Ländern. In Schweden haben wir zum Beispiel über die Vernetzung der organisierten Fahrer*innen in Stockholm, Göteborg, Malmö, Uppsala und Lund gesprochen. Natürlich haben wir auch die internationale Reiterkonferenz in Brüssel erwähnt, die wir Ende Oktober besuchen werden, und Vertreter*innen aus Schweden eingeladen, daran teilzunehmen.
In vielerlei Hinsicht leben wir in düsteren Zeiten. Aber der Pep, mit dem die Fahrer*innen und Genoss*innen reagierten, als wir über unsere Kampagne in Berlin sprachen, ist eines der Dinge, die uns Hoffnung geben. Die gleiche Energie, die wir von IWW und IWGB zu Beginn unserer Kampagne erhielten – hoffentlich haben wir sie nun an unsere Genoss*innen in Schweden weitergegeben. Denn wenn wir Grenzen überschreiten und uns kämpferischen Gewerkschaften anschließen, haben wir ein enormes Potenzial, unser Leben zu verändern: in der Stadt, in der wir leben, aber auch national und international. Wir sind der Widerstand. Mach mit!
"Wow, kan man göra så?"
14-16:e september besökte FAU Berlin tre svenska städer och berättade om kampanjen #Deliverunion. Förtvivlan och frustration byttes mot hopp om förändring.
SAC bjöd våren 2018 in FAU för att berätta om kampanjen #Deliverunion. 14-16e september besöktes således Stockholm, Göteborg och Malmö där de lokala fackföreningarna arrangerade infomöten öppna för alla men speciellt för cykelbud, så kallade riders. Det producerades lokala material som genom arbetsgrupper delades ut till buden på gatan, ett som hänvisade till mötet och ett annat flygblad som beskrev hur SAC nu tagit sig an budföretagen och uppmanade alla riders att sluta sig samman i sitt lokala fack.
Till mötena kom en handfull riders i varje stad. Samtalet kretsade kring deras arbetssituation, vad som hittills gjorts för att sluta sig samman samt svårigheter och möjligheter att nå ut till sina kollegor. Vi från Berlin hakade sedan på och berättade hur vi började organisera oss, våra erfarenheter och utmaningar. Våra liknande erfarenheter och den gemensamma frustationen var slående. Att vi gjort något i Berlin möttes av entusiasm men gav även oss energi att fortsätta det vi startat. När vi visade bilder från aktioner vi genomfört var entusiasmen stor: "wow, kan man göra så?". Till mötena kom även nyfikna samt fackliga organisatörer som visade intresse till att kämpa för bättre förhållanden på de olika arbetsköparna Uber eats, Foodora och Hungrig. Kontaktuppgifter byttes och förhoppningsvis kommer vi inom de närmaste månaderna se artiklar och berättelser om cykelbud som sluter sig samman för att förändra. Samtalen kretsade mycket om att nå ut till sina kollegor i sin egna stad men också om att sluta samman kamperna i de olika städerna. Vi från Berlin nämnde även cykelbudskonferensen i Bryssel som vi ska besöka i slutet av oktober och uppmanade representanter från Sverige att ansluta sig till den.
På många sätt lever vi i en mörk tid. Ett hopp är den pepp vi möttes av när vi berättade om hur vi organiserat oss i Berlin. Samma energi som vi fick av IWW och IWGB när vi började vår kampanj har vi förhoppningsvis nu skickat vidare. När vi enas över landsgränserna och sluter oss samman i kämpande fackföreningar har vi en enorm potential att förändra våra liv – i staden där vi bor, men också nationellt och internationellt. Det är vi som är motståndet. Anslut dig.