#wewantsantiback – Rider des Lebensmittel-Lieferdienstes Gorillas greifen nach fristloser Kündigung eines Kollegen zur Direkten Aktion. Wir erklären uns solidarisch mit den Arbeiter*innen und rufen zur Unterstützung auf.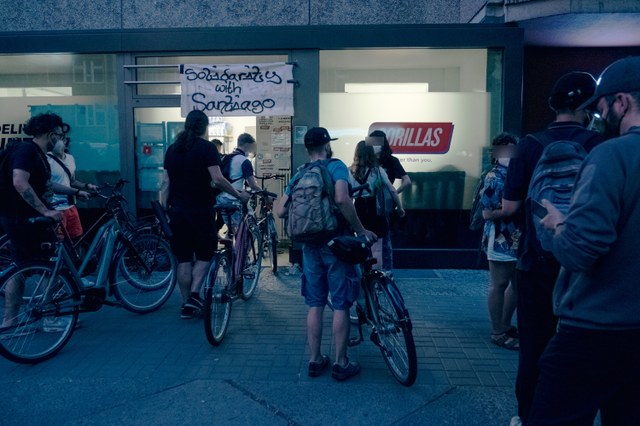 Am vergangenen Mittwoch hat der Konflikt um die Arbeitsbedingungen bei der Gorillas Technologies GmbH einen neuen Höhepunkt erreicht: Nach der fristlosen Kündigung eines Riders haben die Kolleg*innen den Lagerbetrieb zum Erliegen gebracht.
Der Fall ist exemplarische Folge eines Systems aus Kurzzeitverträgen, prekären Probezeitbedingungen und Gewerkschaftsfeindlichkeit – alles Dinge, die in vielen Lieferbetrieben zu beobachten sind. Wir unterstützen die Organisierung in diesem Bereich und erklären daher nicht nur unsere Solidarität mit dem aktuellen Arbeitskampf, sondern rufen Mitglieder, Gewerkschafter*innen und Sympathisant*innen dazu auf, die Rider in ihrer aktuellen Situation zu unterstützen.
*
We support the Gorillas Workers Collective and their current labor struggle
#wewantsantiback – Riders of the food delivery service Gorillas take direct action after a colleague was dismissed. We declare our solidarity with the workers and call for support.
Since Wednesday, 09th June, the struggle over labor conditions at Gorillas Technologies GmbH reached a new peak. After a colleagues' termination without notice, fellow workers brought warehouse-operations to a halt.
The case is an exemplary outcome of a system consisting of short-term contracts, precarious probation-conditions and union busting which we all see at many delivery-companies. We support organizing in this field and therefore not only declare our solidarity with the current struggle but call upon members, unionists and sympathizers to support the workers in their current situation.