It was an unusual sight: on the 28th of June in Berlin about 70 Foodora and Deliveroo
riders dumped a huge pile of old bike parts on the street in front of the Deliveroo offices in
Berlin. This marks the second time the workers of the the international start-up companies
have taken to the streets in Berlin in their fight for better working conditions. Wearing their
distinctive pink and blue uniforms and shouting slogans like "What do we want? Fair
wages! When do we want them? Now!", they were joined in support by members of the
general public as they brought their protest right to the companies' doorstep.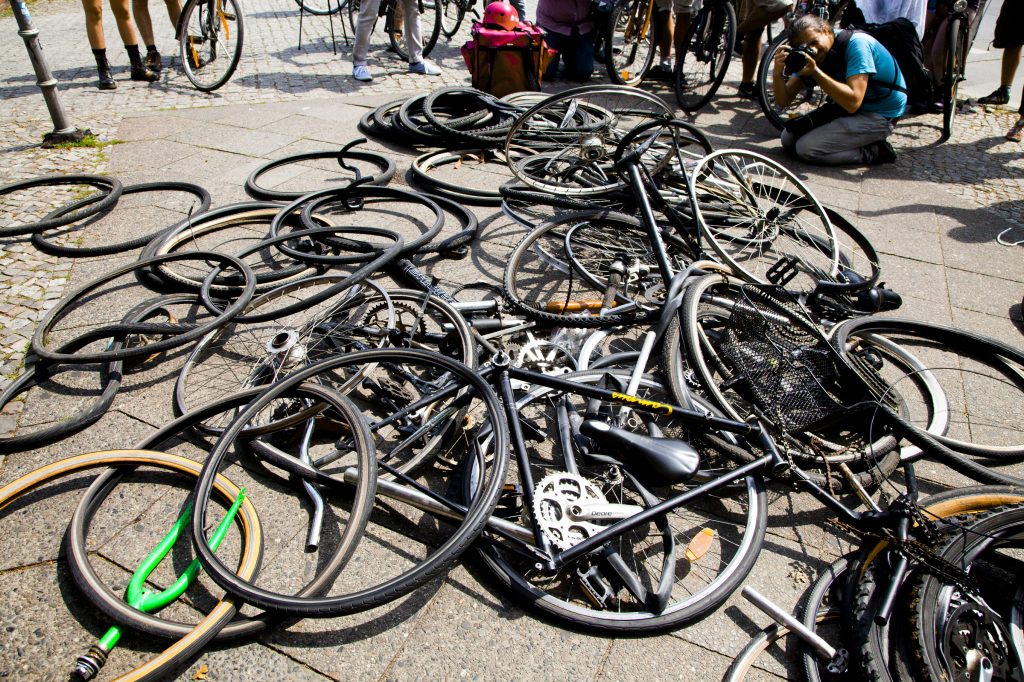 The action was planned by riders from both companies organising within FAU Berlin since
January of this year. As more and more riders are joining the union, they also increasingly
coordinate with similar campaigns across Europe, all using the hashtag #deliverunion.
Across the board, they are drawing attention to their precarious working conditions and low
wages that are typical for workers in the growing so-called "gig-economy". Companies like
Foodora and Deliveroo are continually trying to save money at their workers' expense in
order to maximize their investor's profits.
To counter that trend, riders in Berlin have put forth a list of three main demands to the
companies. Those demands are first, a wage increase of at least one Euro extra per hour
or drop, second, a guaranteed minimum amount of hours or shifts per week, and third,
reimbursement for all of their their operating costs, such as bike parts, bike wear, and
mobile phone costs. It is this last demand in particular that the most recent action was
directed at. Workers in both companies are riding their own bikes through the city for hours
on end, and use their personal phones and data for work. On average, the resulting costs –
in particular the bicycle-repairs – take more than 10% off their wages. Considering that
riders are only making just above minimum wage to begin with, their real earnings are far
below the 12 € Deliveroo and Foodora are advertising in their recruitment ads.
In the run up to the protest on Wednesday, Foodora and Deliveroo have been contacted
twice by the FAU, who are demanding negotiations on the riders' behalf. So far, Deliveroo
has refused to engage with the union directly. In statements to the press and internal
emails to the riders, the company insists that their workers are being treated fairly. This
has sparked growing anger and frustration amongst their riders, who feel that their voices
are not being heard. With support from their comrades at Foodora and FAU, they are
intent on putting pressure on the management until they agree to come to the negotiating
table.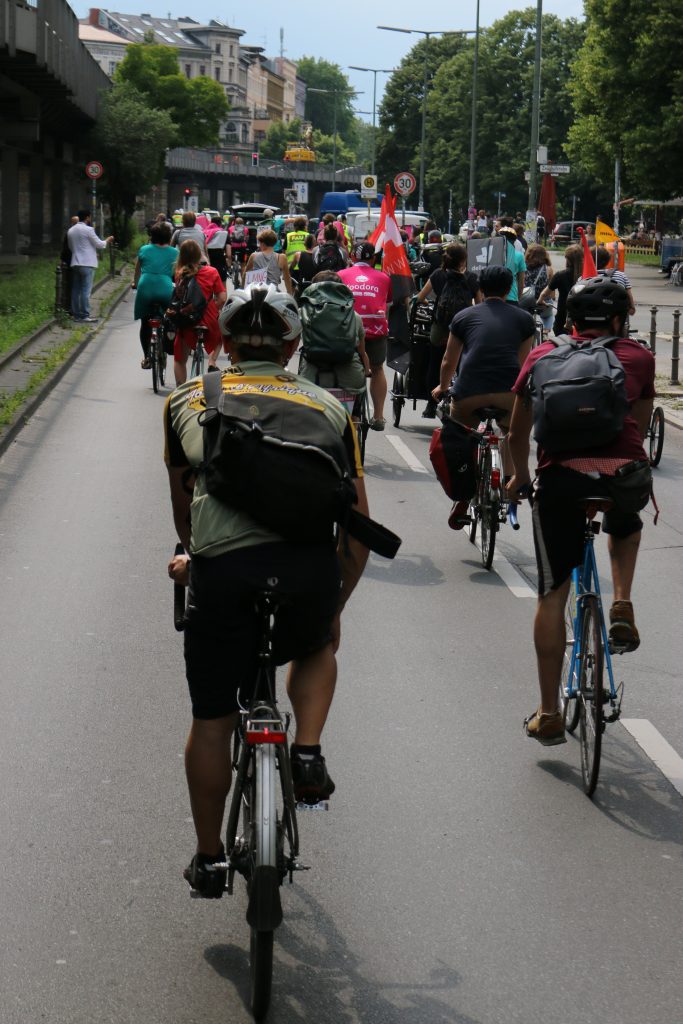 Foodora, on the other hand, seems to be responding to the toll the campaign is taking on
their public image. In recent email-communications with FAU Berlin, Foodora have said
they are improving the system for shift planning and are trying to come up with a way to
compensate for bike repairs. On the morning of the demonstration Foodora agreed to
begin negotiations with representatives from the FAU Berlin, and offered two possible
dates for a first meeting. This is a victory for the campaign, and the riders are very pleased
Foodora seems to finally be taking their demands seriously. As a sign of good faith the
action outside of the Foodora office was cancelled, and while the negotiations are ongoing
and productive, no further actions will be taken against the company. Nevertheless, the
riders will watch the negotiation process closely and not be easily placated by a few minor
changes. Foodora have shown willingness to comply with some of our demands – now we
need to make sure their words are followed by action! To show our continued vigilance, the
protest on Wednesday continued with a large demonstration past the Foodora
headquarters in Berlin-Mitte.
If Foodora are willing to come to the negotiation table, we are left to wonder what reason
Deliveroo has to refuse not just official negotiations but any from of direct communication
with the union. Refusing even to acknowledge their workers' right to organise, Deliveroo
management have repeatedly attempted to downplay their demands and put pressure on
them to speak to the management individually. However, not only have individual
complaints not yielded any results – they also put riders at risk for loosing their jobs.
Despite our continued poor working conditions and Deliveroo's hostile stance, we are
emboldened by the speed at which the #deliverunion-campaign is growing and by the
results it has already produced in such a small amount of time. Riders and their comrades
at the FAU will continue to stand together in solidarity and push for better working
conditions in both companies. "For riders, united, will never be divided!"