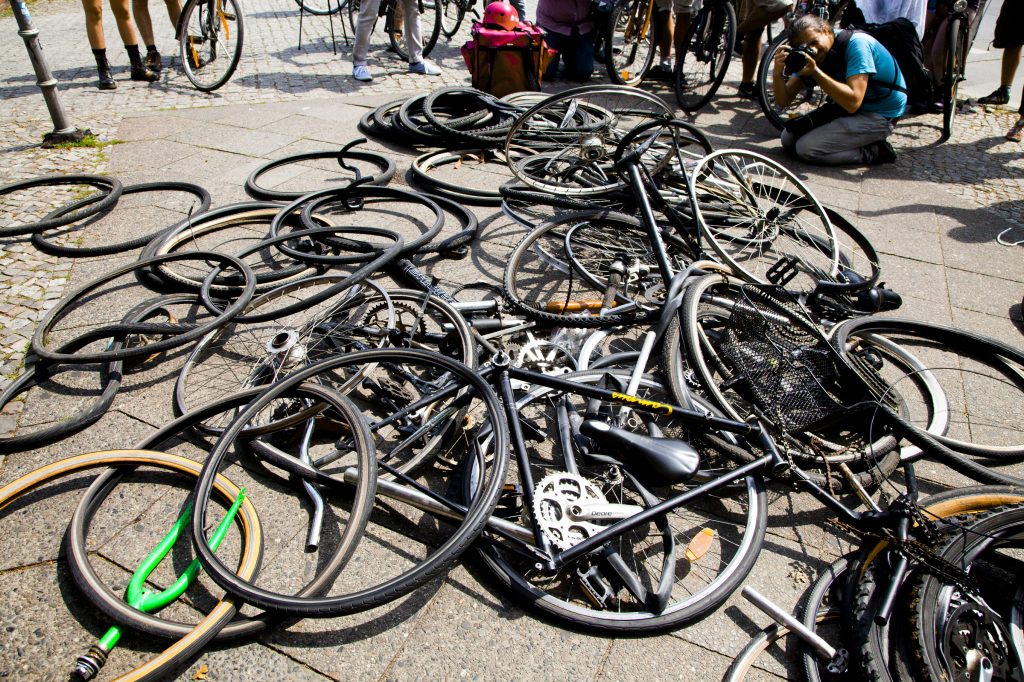 [deutsch unten]
Dear riders and supporters!
Since the negotiations with Foodora have failed and Deliveroo is still trying to ignore their workers' demands entirely, it is high time to take action again!
We ride our own bikes around the city in every weather for Deliveroo and Foodora; and on top of that, we have to pay for the bike repairs ourselves. As a result of the Deliverunion-Campaign, both companies have already been forced to admit that this is not fair. Yet, they offer us no real solution!
So next week, we will bring our protest right to their doorstep – together with a special delivery: All of the old bike parts we have had to replace over the last months!
We call on all riders and supporters to join our action! We'll meet
on 24 January at 2.30pm
outside the Delivery Hero Headquarters, Oranienburger Str. 70
Bring your bike parts, bring your voices! Let's call Bullshit when we see it!
In solidarity,
The Deliverunion AG
Liebe Fahrer*innen und Unterstützer*innen!
Die Verhandlungen mit Foodora gescheitert sind und Deliveroo versucht nach wie vor, die Forderungen ihrer Arbeiter*innen zu ignorieren. Höchste Zeit also, wieder aktiv zu werden!
Wir fahren auf unseren eigenen Fahrrädern bei jedem Wetter für Deliveroo und Foodora durch die Stadt; zusätzlich müssen wir auch noch unsere Reparaturen selbst bezahlen. Auf Druck der Deliverunion-Kampagen mussten beide Unternehmen schon zugeben, dass das nicht fair ist. Trotzdem bieten sie uns keine echte Löseung!
Nächste Woche bringen wir unseren Protest deshalb direkt vor ihre Haustür – zusammen mit einer besoneren Lieferung: Allen alten Fahrradteilen, die wir im Laufe der letzten Monate ersetzen mussten!
Wir rufen alle Fahrer*innen und Unterstützer*innen dazu auf, mitzumachen! Wir treffen uns
am 24.Januar um 14:30 Uhr
vor dem Delivery Hero Hauptquartier in der Oranienburger Str. 70
Bringt euren Fahrradschrott mit und seid laut!
Solidarische Grüße,
Die Deliverunion AG