In the afternoon of 24 January, roughly 40 riders and supporters gathered outside the Delivery Hero headquarters in central Berlin. At this fourth demonstration of the Deliverunion campaign in Berlin so far, riders once again demanded F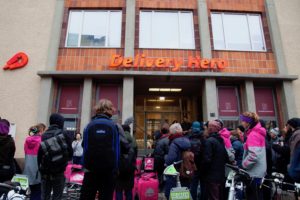 oodora and Deliveroo cover their bike repair costs in full. To symbolize the size of the issue, they gathered a big pile of broken bike parts outside the headquarters' entry door.
The companies' refusal to cover the costs of their workers' working materials, most importantly the costly repairs of their bikes' wear and tear, has been a central issue for the Deliverunion campaign from the beginning. The job of a delivery worker takes a heavy toll on their bike. Spare parts and repairs needed to make their bikes safe and fit for the job again regularly costs the riders a significant portion of their income, not to mention a great deal of time. Even Deliveroo and Foodora themselves have by now been forced to admit that this is not fair.
Deliveroo has officially paid their employees 10ct/km for repairs since August of 2017. However, hardly anyone has actually recieved that money so far. At the same time, Deliveroo is contracting more and more so called "freelancers" who, they argue, are responsible for their own gear. Foodora on the other hand has been promising their workers a compensation for repair costs ever since May 2017. On Tuesday, just one day before the demonstration, they finally announced their plan: starting February 2018, riders will get a credit amounting to 25ct/h at the bike shop "LiveCycle". This translates to 5ct/km at most, and amounts to a maximum of 42€/month for full time workers. That amount goes nowhere near covering the costs for the spare parts – let alone the costs of the actual repairs.
So while this new announcement is certainly a step in the right direction, it is no real solution to the problem. "I don't know what they are thinking", one Foodora rider said. "At LiveCycle, for the 42€ you get if you work 168 hours per month, all you can do is change one flat tire or get your breaks fixed. That is just a bad joke." A colleague from Deliveroo put it this way: "If you worked in an office, no one would expect you to bring and repair your own computer. The bikes we ride are working material just like computers are in offices, so I cannot believe we even need to fight for this."
One thing everyone at the protest agreed on was that this fight is far from over. The campaign is growing in numbers and riders around the world have already been going on strike, protesting in the streets or taking the companies to court on many occasions. "We will continue to put pressure on the companies. The bike repair costs are just one of many issues, and riders are uniting across company lines and across borders. We will not give up until we get what we deserve", a member of FAU Berlin summed up the sentiment of the protesters.