(deutsche Version unten)
Last Friday we handed in our petitio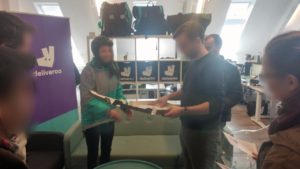 n signed by over 150 riders to the Deliveroo head offices – you should have seen their faces when they opened the pizza box and saw over 30 pages of signatures!
We gave them until Friday 13th to reply with a negotiation meeting date, to discuss our demands:
• pay us for waiting time (4€ for every half an hour without an order)
• cover our compulsory statutory accident insurance
• reimburse bike parts expenses (0,35€/km)
• progressively raises riders' pay (an additional 0,50€ after 3, 6 and 12 months of working for Deliveroo)
Soon after we handed in the petition Deliveroo wrote their riders an email saying they want to work with riders and not with "third parties". Suggesting that 150 organised riders are a "third party" is a new low for the company.
Let's see if Deliveroo decides to listen to the 150 riders who demanded a negotiation meeting, or decides to ignore them completely.
Über 150 Deliveroo-Rider unterschreiben für bessere Arbeitsbedingungen!
Letzten Freitag haben wir unsere von über 150 Fahrern unterschriebene
Petition an die Deliveroo-Zentrale übergeben – ihr hättet ihre Gesichter
sehen sollen, als sie die Pizzaschachtel öffneten und die über 30 Seiten
mit Unterschriften sahen!
Wir gaben ihnen bis Freitag, den 13. April, Zeit, um mit einem
Verhandlungstermin zu antworten, um unsere Forderungen zu besprechen:
• Bezahlung der Wartezeit (4€ für jede halbe Stunde ohne Bestellung)
• eine obligatorische gesetzliche Unfallversicherung abdecken
• Erstattung der Kosten für Fahrradteile (0,35€/km)
• schrittweise Erhöhung der Bezahlung für die Fahrer (zusätzlich 0,50€
nach 3, 6 und 12 Monaten Arbeit für Deliveroo)
Nachdem wir die Petition eingereicht hatten, schrieb Deliveroo ihren
Fahrern eine E-Mail, dass sie mit Fahrern und nicht mit "Dritten"
arbeiten wollen. Der Vorschlag, dass 150 organisierte Fahrer eine
"dritte Partei" sind, ist ein neuer Tiefpunkt für das Unternehmen.
Mal sehen, ob Deliveroo sich entscheidet, den 150 Fahrern zuzuhören, die
ein Verhandlungstreffen gefordert haben, oder ob er sich entscheidet,
sie komplett zu ignorieren.