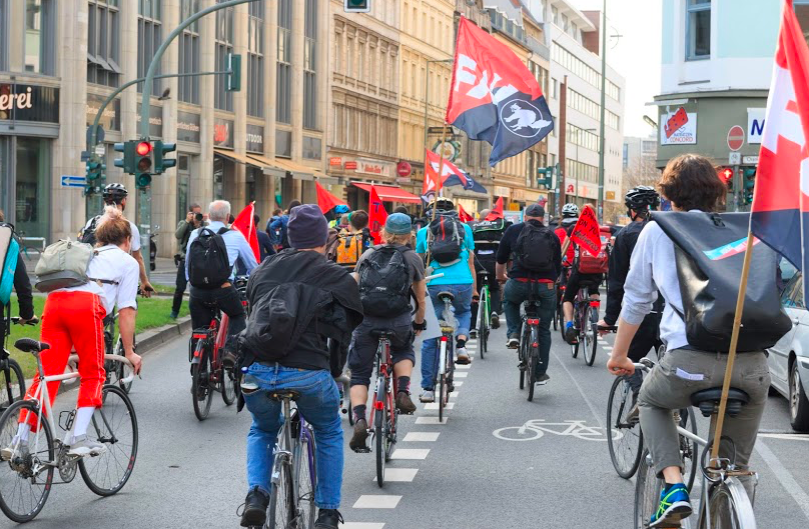 On the afternoon of Friday, the 13th of April, around 60 riders and supporters gathered on Oranienplatz in Berlin-Kreuzberg. They took to the streets to protest the working conditions at Deliveroo and it's disregard for their worker's right to unionize. The demonstration was organized by the FAU Berlin, the union representing both Deliveroo and Foodora riders in Berlin since early 2017. It was part of an international day of action against Union Busting and exploitation in turn organized by aktion./.arbeitsunrecht from Cologne (see action reports from other cities: https://arbeitsunrecht.de/shame-on-you-deliveroo/). In an online vote to determine the "worst employer", and thus "winner" of this day of action, Deliveroo came in first, closely followed by the restaurant chain Nordsee.
From Oranienplatz, the demonstration proceeded by bike to a Nordsee-Restaurant near Alexanderplatz, with participants shouting slogans like "Deliveroo, shame on you!" and "What do we want? Fair wages! When do we want them? Now!". Nordsee is one of the restaurants using Deliveroo's delivery service and one of the companies owned by Theo Müller, supporter of the far-right AfD-party, as Andre from aktion./.arbeitsunrecht explained.
At around 6pm the demonstration then arrived outside the Deliveroo-offices in Berlin-Kreuzberg for the closing rally. Deliveroo "rider" Juri (name changed) described the insecurity that comes with working as a freelance bike courier in vivid terms, and the constant competition over shifts and orders as a "lottery for our bread". He also called out his employer for ignoring a petition demanding better working conditions that had been signed by over 150 riders and handed in one week earlier. The company had even gone so far as to describe these 150 riders in an email as a "third party", with whom they would not negotiate.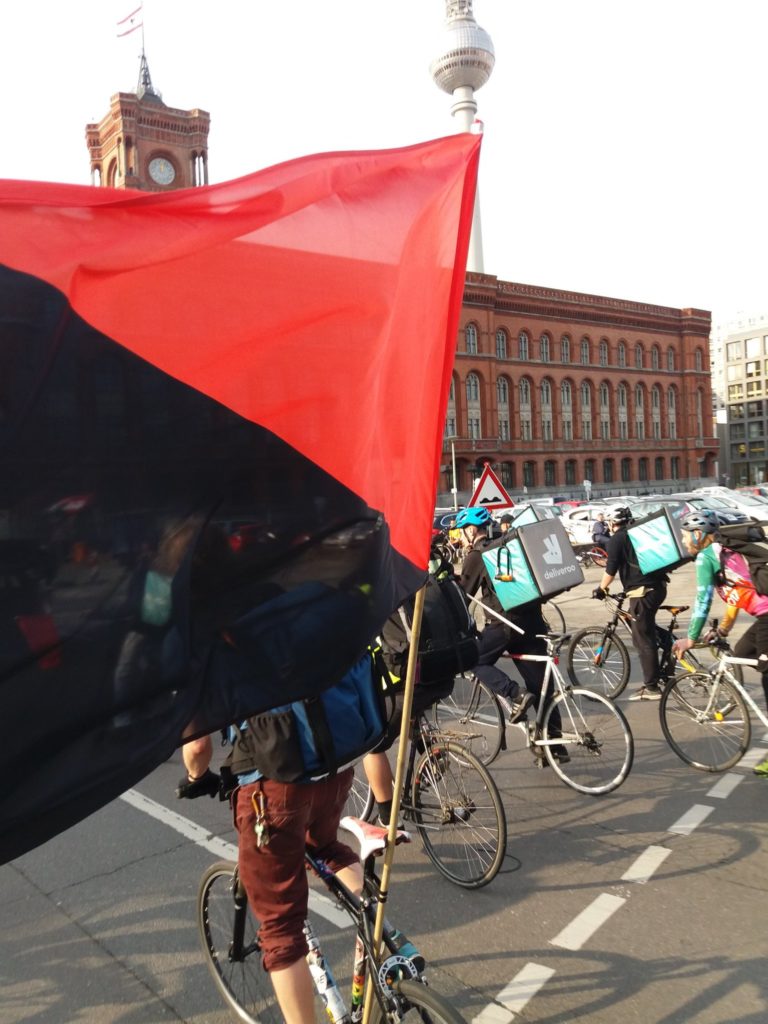 The demonstration ended with a solidarity-statement from a group of Taxi drivers organizing against their equally precarious working conditions. They where but one of several other groups of organized workers, local initiatives and members of the general public, who showed their support for the bike delivery couriers' struggle on this day. While there is still a long way to go in the fight living wages and fair working conditions, this show of support gave all those present hope and strength to continue in their struggle. And it opened up the perspective of eventually turning the slogan "Riders Unite!", used by many delivery workers around the world, into a broader "Workers Unite!".